Home

2015 AmeriCorps Competition
SerVermont is pleased to announce the release of the Corporation for National and Community Service's 2015 AmeriCorps Notice of Funding Opportunity. More information on the competition, and SerVermont's Request for Proposals can be found in the AmeriCorps section of our website: http://servermont.vermont.gov/americorps
September 12 SerVermont celebrated AmeriCorps' 20th Anniversary and the
2014 Governor's Service Awards
MLK Day 2014
MLK Day, January 20, 2014 was a huge success in Vermont. AmeriCorps and VISTA members held events around the state to mark this "day on, not a day off". Here are some of the highlights.
Members of the Northeast Kindgom Initiative AmeriCorps program gathered at Northeast Kingdom Youth Service's Living Room, a place where out of school youth and teens can gather during the day, to prepare "Stone Soup" for the day's community meal, as well as for the soup kitchen at HOPE in Lyndonville. Members then gathered at the Cobleigh Library in Lyndonville where they held a discussion on race and watched "Mighty Times: The Life and Times of Rosa Parks".
NEKI AmeriCorps members prepare ingredients for their big batch of Stone Soup
Members of the Vermont Youth Tomorrow VISTA, SerVermont VISTA, and Vermont Youth Development Corps AmeriCorps programs gathered at Lost Nation Theater in Montpelier for a day of service projects and discussion. Service projects included packaging 350 boxes of food at the VT Foodbank, repaired shelves at the Montpelier Food Pantry, and organized donations at ReSource in Barre. In addition 40 youth participated in "MLKids" activities including arts and crafts and healthy foods. At the end of the day everyone gathered together for a panel discussion on the civil rights movement and MLK's legacy.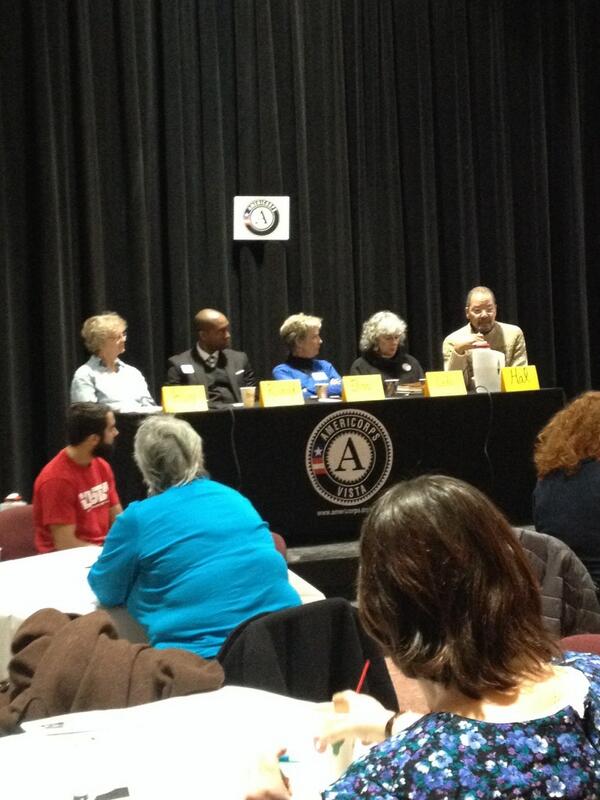 Panelists at the MLK Day celebration in Montpelier
Members of the CEDO We All Belong AmeriCorps program teamed up with ECHO in Burlington for a day of activities. Highlights included reduced price admission to ECHO, several race and diversity themed activities throughout ECHO, remarks from Mayor Miro Weinberger of Burlington, and Governor Peter Shumlin, and musical performances by A2VT and Burlington's Integrated Arts Academy Student Choir.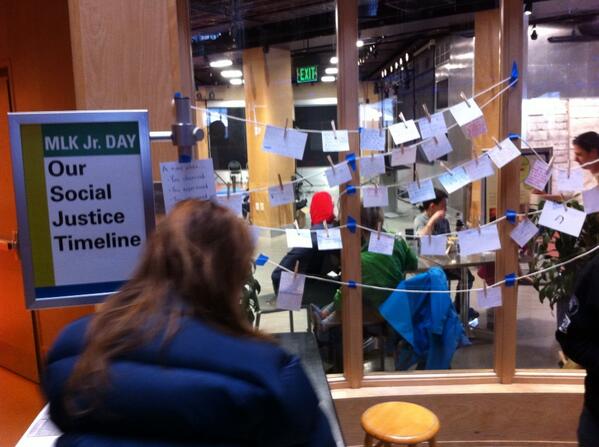 One of the activities, Our Social Justice Timeline, which AmeriCorps members facilitated at ECHO on MLK Day
Members from Vermont Housing and Conservation Board AmeriCorps program gathered at the Waterbury Senior Center for service projects and a community meal. Projects included building shelves, organizing and packing donated books for local school children, and preparing hundreds of meals for Meals on Wheels.
Local students and AmeriCorps members with some of the nearly 100 meals they packaged for freezing and distribution through Meals on Wheels
We Moved!
SerVermont has moved once again!
We are now located on the Fifth Floor of the Pavillion in Montpelier!
Our new address is:
109 State Street
Fifth Floor
Montpelier VT 05609-4801
AmeriCorps Launch 2013!
On October 24, 2013 we celebrated the kickoff of the 2013-14 AmeriCorps program year. Members from our 4 AmeriCorps State Programs, 2 VISTA Programs, and 2 National Direct programs participated in the festivities at the Statehouse. Festivities included a warm welcome from Governor Peter Shumlin, an exciting keynote from Lyndon State College President Joe Bertolino, and a personality styles workshop from Markey Read of Career Networks.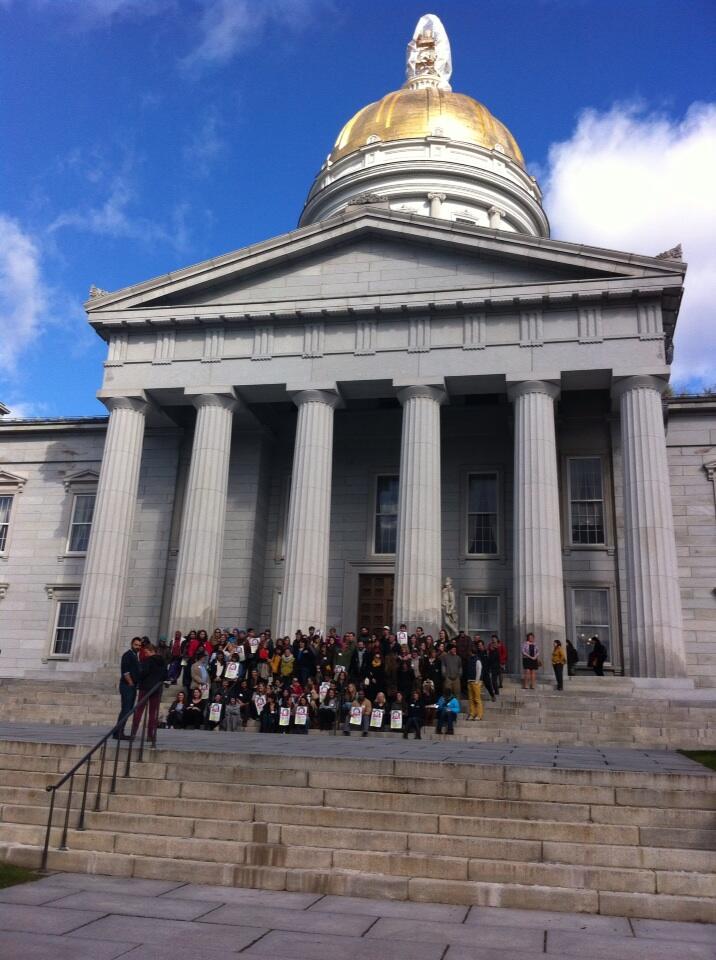 Mayors Day of Recognition for National Service
On April 9, 2013, mayors around the country came together for the first ever Mayors Day of Recognition for National Service to recognize the positive impact of national service on our communities, to thank AmeriCorps and Senior Corps members and to encourage citizens to give back to their communities. Burlington Mayor Weinberger, Montpelier Mayor Hollar and Barre Mayor Lauzon all participated in this event, showing their support for national service. For more information about the Mayors Day of Recognition for National Service click here.

April 9, 2013, Burlington Mayor Miro Weinberger speaks up in support of national service on the Mayors Day of Service Recognition.
AmeriCorps Members, Alumni, Programs, and Sponsors:
Sport your "A" to help promote our value in national service and volunteerism!


SerVermont administers funding to the state's AmeriCorps National service programs, Vermont's AmeriCorps*VISTA Program, and promotes, supports, and recognizes volunteerism and community service throughout Vermont. SerVermont is made up of a group of passionate governor appointed commissioners supported by a core staff of 3.